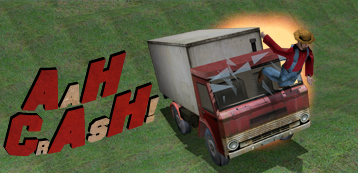 Aah Crash!
GET READY TO CRASH LIKE A PRO
Freddy the farmer has a dream. He wants to drive fast and reach places where no man has ever stepped their foot on before. Even the sky is not the limit this time when the space must also be explored! Get ready to cause full havoc in this peaceful countryside!
Collect coins, do flips and fly high to upgrade your vehicle's engine and fuel to the max. Get special items like a ramp to fly even further! Many vehicles are available all the way from a heavy truck to a lightweight motorcycle that is a dream to control in midair!
• Detailed 3D graphics and realistic dynamic shadows
• Upgradeable engine and fuel levels (each with a detailed 3D model)
• Many different high detailed vehicles (everything from a heavy truck to a motorcycle)
• Runs smoothly on any device and looks good on any resolution!
• Unique 3D camera menu interaction!
• Share your results with your favorite social media!
• Currently available on Windows 8.1+ and Windows 10 devices (mobile, tablet and desktop)